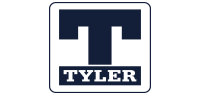 ---
---
Tyrethane products come from the only polyurethane plant in North America that blends its own material, which is critical to quality control. Tyrethane is tested daily for tensile, elongation, taber abrasion and split tear to ensure its chemical composition is correct for the heavy aggregate and mining applications it must stand up to. All products perform well in wet or dry applications. Tyrethane is available in both hooked sections and modular panels, so there's never a need to make any changes to a deck set-up.
TYRETHANE SCREEN MEDIA
TY-MAX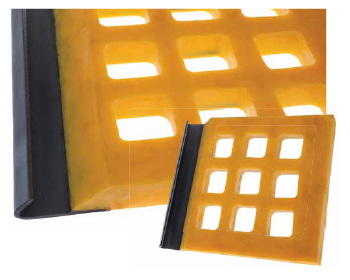 ---
---
CUT SIZE RANGE
Smallest Square: 2,4 mm
Largest Square: 102 mm
Smallest Slot: 0,5 x 12 mm
Largest Slot: 9,5 x 25 mm
---
Ty-Max Hooked offers the wear life of a polyurethane panel in a hooked section, so no deck conversion is required.
Characterized by a metal grid within the structure of the polyurethane to maintain the integrity of the hooked section - something modular polyurethane panels do not offer; hooks are welded directly to the grid for added rigidity.
Poured using open cast technology, and permanently hardens when cured to maintain its chemical properties – so it resists wear and tear.
TY-DECK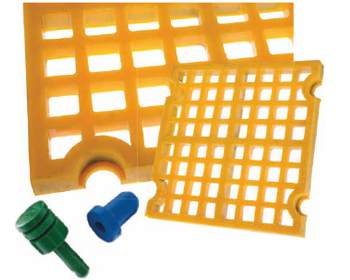 ---
---
CUT SIZE RANGE
Smallest Square: 5 mm
Largest Square: 89 mm
Smallest Slot: 0,5 x 12 mm
Largest Slot: 19 x 102 mm
---
Ty-Deck modular panels, just like Ty-Max, are poured open cast and permanently harden when cured to maintain their chemical properties, so each resists wear and tear.
Lasts 1-1/2 times longer than injection molded polyurethane products.
Lightweight, modular design makes for easy installation and allows for sectional deck change-outs.
Available in multiple modular attachment systems depending on your deck setup
TY-WIRE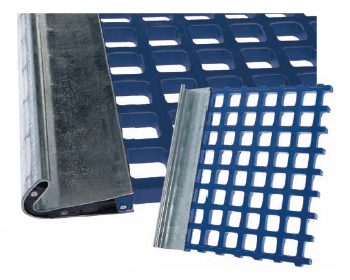 ---
---
CUT SIZE RANGE
Smallest Square: 3 mm
Largest Square: 41 mm
Slot: 4,75 x 25,4 mm
Slot: 6,35 x 19 mm
---
The jump from woven wire cloth to polyurethane can be big – the weight difference alone can signifi cantly alter the performance of your vibrating screen and affect your product quality. That's where Ty-Wire offers greater open area than polyurethane and actually weigh less than woven wire cloth.
Manufactured by pouring a composite material over woven wire cloth; it performs a lot like polyurethane, but offers far greater open area.
The composite material increases the wear life of the screen media over woven wire cloth by 4 times – guaranteed
Available in both hooked sections and modular panels – so no changes are needed to the deck setup.
Tapered openings virtually eliminate pegging.
---